It is quite difficult for me to descend from cloud nine. :-) *grins widely* I was catching forty winks this afternoon after clearing the house when I was awakened by the ring tone of a text message.
"Excuse me boss, you've got a message"
in the usual official sounding voice.
Lazily, I reached out for my handphone and read the message.
Screams followed and my younger boy ran to my room.
"What happened, mom?" he asked excitedly.
With a smile on my face, I read out the text message from his piano teacher, Catherine (who also taught my older boy till he finished his grade 8):
"Nick had 134. Distinction. Pls say congrats 4 me.:-)"
More screams followed - this time from both of us. :-)
Last month, my younger son took his Grade 8 ABRSM piano exam and we never expected him to get a distinction because in his nervousness, he fumbled in one bar. He scored distinctions from Grade 2 to Grade 6 (he skipped Grade 1) and scored a merit for his Grade 7.
His confidence was dented when he missed his distinction for the Grade 7 exam.
When I shared this in my FB wall, a flurry of congratulatory messages followed. Truly, I am in blissful contentment - a state of delirium to be exact. :-)
At 12 yrs and 8 mths, this is a great accomplishment for him and the glory belongs to God, Nick, his fantastic teacher, his dad (who paid the fees haha) and yours truly who faithfully chauffeured him to his classes.
The euphoria must not be allowed to carry on for he will be taking his Grade 8 ABRSM violin exam on 17th August.
Tomorrow, he is the guest artiste at one inter-school event. And he is busy practising.
As for my older boy, the band that he belongs to,
Juanophobia
, has qualified for the
semi-finals of the Passport to Fame Battle of the Bands.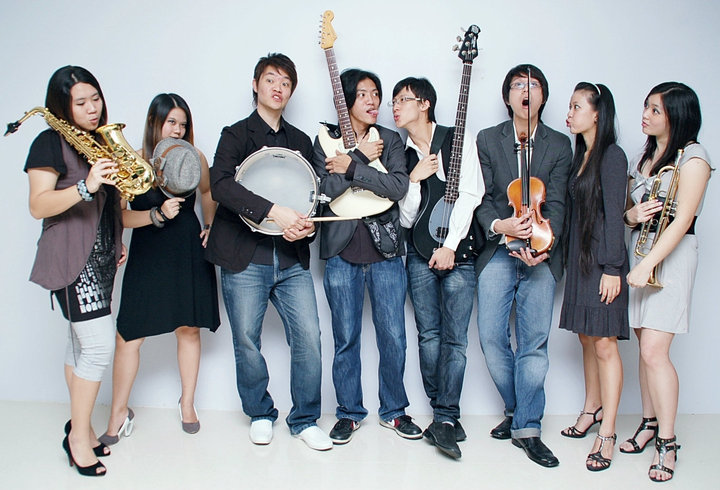 Details are as follows:
Saturday, August 6 at 9:00pm - August 7 at 12:00am
Location :Supernova@avenue K
Ground Floor Avenue K, 156 Jalan Ampang
Malaysia
There will be 5 bands performing on that night:-
1) In Your Heart
3) JUNK
4) MALCOLM Music
5) Mr Birdman
If you are in the vicinity, please support JUANOPHOBIA!!!!
Come and enjoy with us and let's ROCK it with all the bands!
CLICK HERE TO WATCH a clip of their performance in the latest round.
This is their first single (original composition) to be released soon:
TAKE THE WORLD
The following are two of my favorite clips of their performances:
SWAY
performed at
798 Wine Bar, Tropicana City Mall, Battle of the Bands 2011: Passport to Fame, Round 3, Saturday, July 2nd.
LEAN ON ME
performed at
798 Wine Bar, Tropicana City Mall, Battle of the Bands 2011: Passport to Fame, Round 3, Saturday, July 2nd.
Er..I have to be fair. Since I praised Nick, I also have to praise Jon :-).
Incidentally, Jon (my older boy) just started blogging recently. Do visit his blog called
ENIGMATIC
and read about his waxing experience!
Frankly, my secret ambition was to be a musician/singer and then a writer. :-) I had wanted my older boy to be either a lawyer or an accountant but he told me, "Mom, please don't let me chase your dream. Let me chase my own dreams." With that, we gave him our blessings and he is doing just that.
My sons, I LOVE YOU BOTH -
EQUALLY.
Take care! Do leave a comment to share your thoughts and please swing by again later for the next post. Thanks. Have a lovely evening.