A video of the passionate haka performed by the comrades of three fallen New Zealand soldiers has gone viral, with tens of thousands of people around the world watching the clip.
The 2nd and 1st Battalion Royal New Zealand Infantry Regiment performed the moving tribute for Corporal Luke Tamatea, 31, Lance Corporal Jacinda Baker, 26, and Private Richard Harris, 21, at their funeral service at the Burnham Military Camp in Christchurch on Saturday.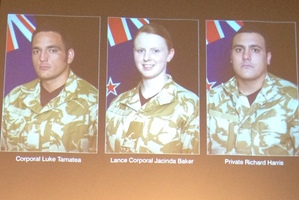 The trio were killed instantly when a roadside bomb destroyed their Humvee in Afghanistan's northeast Bamiyan Province on August 18.
A video of the haka put on YouTube by the New Zealand Defence Force has gone viral, with more than 122,000 views.
The emotional tribute was given publicity by CNN host Piers Morgan, who shared the clip with his 2.6 million followers on Twitter.
CLICK HERE for more.
Thanks to Angela for sharing.
May the victims rest in peace and may their families and loved ones have the strength to come to terms with the loss.