Today, when you logged into Google, did you see the following graphic?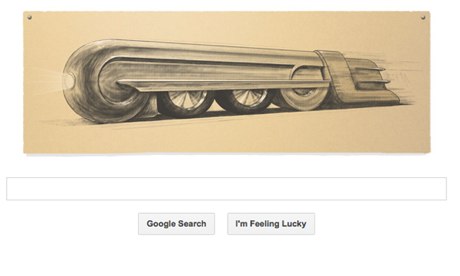 The Guardian reports:
Google's latest doodle celebrates the birthday of Raymond Loewy, the late industrial designer of the Coca-Cola bottle who was also involved in creating the Shell, Exxon, TWA and former BP logos.
Loewy's slenderised design for an S1 steam locomotive that saw service in the eastern US forms the basis of the doodle.
Described by admirers as the "father of industrial design", Loewy, who died in 1986 at the age of 92, was responsible for other notable symbols including the Lucky Strike cigarette packet.
Born in France, he emigrated to the US in 1919 after completing his engineering studies at the Université de Paris and École de Laneau.
After working in New York as a shop window decorator for Saks Fith Avenue and Macy's, he drew for Vogue, Harper's Bazaar and Vanity Fair before moving into industrial design towards the end of the 1920s.
Along with designing locomotives for the Pennsylvania Railroad Company, he was responsible for vehicles such as the Hupmobile (1934) for the Hupp Motor Company and the streamlined Greyhound buses.
CLICK HERE for more.
CLICK HERE for The Mirror's report.