I have the deepest respect for Tunku Abdul Rahman, Malaysia's first Prime Minister. My Uncle Owen Chung (
a descendant of Chung Keng Kwee
) was his busom buddy, golf partner and
aide-de-camp
. As a little girl, I remember visits to his house at Jalan Air Rajah and treasure the many stories that my uncle told me, not forgetting the testimonial he wrote for me when I graduated.
According to
Wikipedia:
Tunku Abdul Rahman Putra Al-Haj was born on February 8, 1903, in Alor Setar, Kedah. Tunku was the twentieth child of Sultan Abdul Hamid Halim Shah, the twenty-fifth ruler of Kedah. Tunku's mother was Che Manjalara , the fourth wife of Sultan Abdul Hamid . Together with his mother and her other children, Tunku lived in the pagoda. As soon as he was old enough , Tunku ran outside the palace enclosure to play with boys of his own age who lived in the town. His mother strongly disapproved of it but she was too preoccupied with caring for the Sultan and Tunku's nurses were unable to control him . At that time , cholera and malaria disease were very common all over Kedah and at least two of Tunku's brothers and elderly sister died from cholera while Tunku himself suffered from intermittent attacks of malaria until he left for London in 1920 .
When Tunku was four years old , he was vaccinated . Although he tried to elude his mother's servants , he was finally caught and taken to his grandmother's room where the painful inoculation. When Tunku was about six years old , one day , as he was toasting keropok , (Fish fritters) in his mother's kitchen , a lit fragment of firewood fell on his left ankle and burnt him. It was extremely painful. Tunku wishing to conceal the accident from his mother , wrapped a cloth around his ankle and hoped that it would heal. But the wound turned septic and it was three years before it healed completely and Tunku was able to resume his football games outside the palace.
When Tunku was nine years old , He was circumcised together with seven other boys who were his playmates from town. The event took place in a room in the palace complex. The Royal Circumciser performed the minor operation in only a few seconds , but the healing was slow . All the patients , including Tunku remained in the palace for three weeks. Malay and Javanese shadow plays were performed nightly for their entertainment.
Tunku's formal education started when he ws about six years old at the only Malay elementary school in Alor Setar . His mother had hoped that the school would keep him out of mischief but he often ran away from class. When a small English Medium school was opened by a teacher named Mohamad Iskandar , Tunku's mother sent him there instead. In the afternoon , Tunku was taught to read the Al-Quran. When Tunku's eldest brother , Tunku Yusuf returned to Alor Setar from England , he realised that Tunku was not making any progress in his studies. He decided to take Tunku with him to Bangkok by sea from Singapore in 1913. In Bangkok , Tunku was admitted to the Debsirin School , where lessons were taught in Siamese. Tunku was never lonely because he possessed an unrivaled capacity of making friends with people of all communities. His best friend was Tavil Guptarak. They attended the same school and were inseparable. Tunku Yusuf spent his time on military operations against bandits. In 1915 , he contracted pneumonia in the jungle and died on his return to the Siamese capital. Tunku then returned to Kedah accompanied by his brother's widow. His mother sent him to study in the Penang Free School. it was here that Tunku began to developed a keen interest in his studies and twice obtained a double promotion.
This evening, it is a great privilege to share the following photographs and information about Tunku's school in Bangkok courtesy of Dr.Michael Chick.
The school is commonly called Debsirin. It is an error because it is written as "ThepSirin" in Thai. This is the same name as "Krung Thep", to describe Bangkok. Krung Thep means "City of Angels", just like "Los Angeles" City of the US. The school started in 1885, when the first gas powered car was invented in 1885 by Gottlieb Daimler.
This school is situated downtown Bangkok, just across the street from the Hualamphong Railway Station. aka "Sethani Roht Fai Hualamphong" in Thai.
For non-Malaysians, Tunku Abdul Rahman was the first Prime Minister of Malaysia.
It is perhaps important to note that he went to ThepSirin School exactly 100 years ago.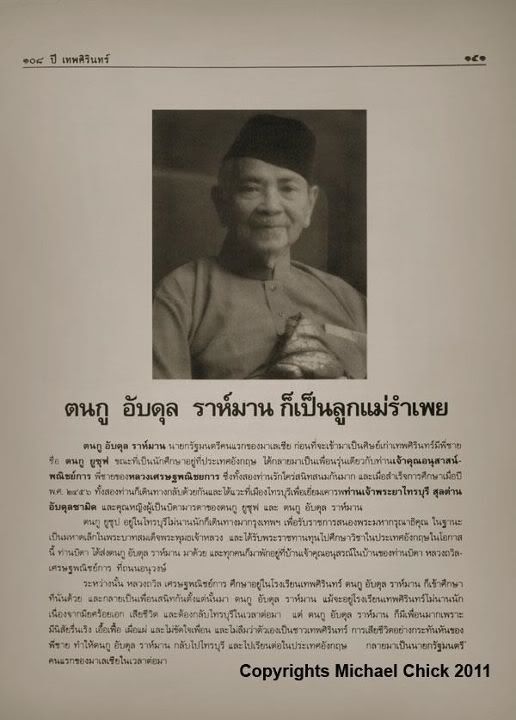 The write-up about him in the School's Yearbook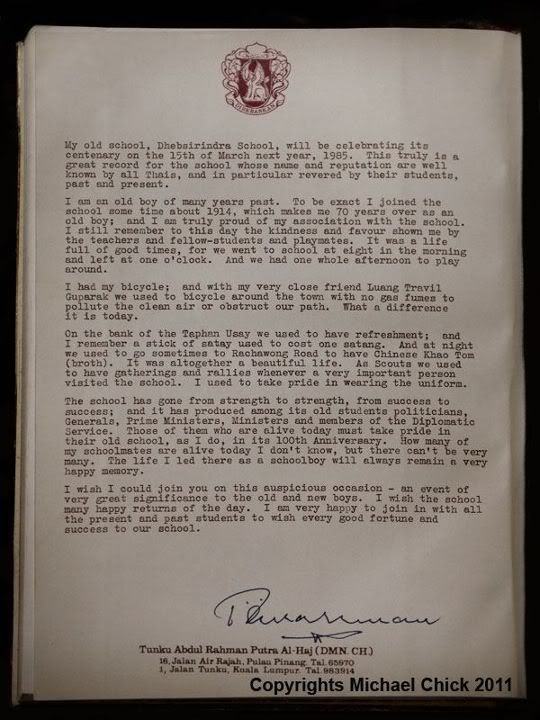 View of the Old building. This section would be converted into a Museum in June 2012
View of the old building from just beyond the main gate
View of inside the Main-Foyer of the school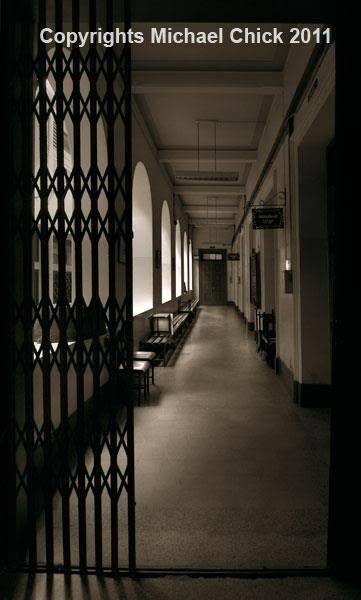 Left-Wing of the School